Album 2010-2005 / Album 2005-2000 / Album 2000-1997 /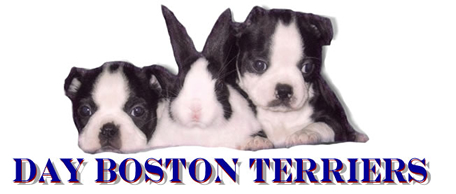 catch us on

---
We will do our very best to educate and present to you,
our Day Boston Terriers (DBTs).
We are truly dedicated to the most wonderful dog breed
that we refer to as "Fur-Babies or Furbies".

DBT has been breeding for a very, very long time,
and we are proud of the dogs that have been produced
from our efforts...
DBT are an exclusive reputable Boston Terrier family,

We have been praised as having the best customer
support and can help in your decision to add a new family
member from our Multi-Generational breeding program.
NOTE : eMail is rerouted
Return Email is from: roycastrojr@me.com
info@daybostonterriers.com
is the correct sending address, you will receive a response from roycastrojr@me.com
please check your SPAM/Junk mail
folders
Currently:
Taking deposits for for
upcoming litters!

UPDATED:: Sept. 22nd, 2016 --- 05:30AM
**page being updated
"Available Puppies" page Updated and vids added to tube
YouTube Channel updated - Litter videos
Current Litter/s:




SKYPE AND FACETIME AVAILABLE UPON REQUEST~
See your Puppy!!!
Just like Dewey, Gerard's brother,
Please call for availability and deposit /screening process.
the next gen of Our family is coming


Pages coming for following dogs:
"Cece"

"Nana"


"Reggie"


"Pierre"


"Spanky"
"Melody"

---
---
Previous Past litters
---
-Due to circumstances beyond our control,
We are sad to announce that our breeding program has been greatly reduced after 18 years of producing the best bt's.
We will still offer one or two litters a year. So please plan way ahead and reserve your puppy way in advance. **
-Day Boston Terriers
Please come see our family of Bostons lovers on
www.Facebook.com/daybostonterriers

or on
YouTube at : DAYBOSTONTERRIERS CHANNEL

When adding us to your facebook please send a message to let us know if your a current DBT dog owner and what year you bought your dog.

These dogs are available through directlink, Adult Section or use the search bar.